Location
Stone hut (1725 m.a.s.l.) is situated in the centre of Skalnatá valey on Tatra Artery trail. Very near the hut leads the longest and highest ski slope in High Tatras that goes from Lomnické sedlo (2 190 m.a.s.l.) to Tatranská Lomnica (888 m.a.s.l.). The hut is available by few trails. Red trail goes from Hrebienok and Zelené pleso, green trail from Tatranská Lomnica and blue trail from Kovalčíkova poľana. For tourists that like more comfortable way of getting into the mountains there is a cable car running all year round from Tatranská Lomnica to Skalnaté pleso, from where it is just few steps to us.
Story of Skalnatá chata
The hut of stories... Our story begun already in 1841 when 4 Silesian tourists together with mountain guides Jakub Lux and Michal Stüber shaped and walled place under the overhang. That's how the first shelter for tourists heading up Lomnický štít was created. In few decades in 1915 for impulse of Ugrian Carpathian society, temporary space was made into a proper shelter, where 20 to 25 people could spend a night. Main step towards today's image of the hut was made in 1932 when Kaverna (former name of Skalnatá chata) was taken over by the club of Czechoslovak tourists. First time in history Skalnatá chata became opened all year round and it was operated by cottier Michal Tomčík and his wife Zuzana. They made multiply changes on the hut and thanks to their care of visitors the hut became one of most visited places in High Tatras. One of the most important events in the history of hut was introduction of the cable car from Tatranská Lomnica in 1937. Despite of beautiful location and popularity it was often changing cottiers. Under Rudolf Presler the hut came through major reconstruction between 1953 and 1955, even though it was proclaimed as insufficient for operation and later it was only used as a storage.
In 1993 Laco Kulanga with family and friends decided to reverse unfavourable destiny of Skalnatá chata. After major reconstruction the hut was given todays image. Besides the complex reconstruction of the building, water piping, electricity and sewage tank were made. This is how the new chapter of Skalnatá chata has started.
Actual interior of the hut is thematicly dedicated to topics like Tatra nature and sherpas' skills and it serves as an information centre for Štátne lesy TANAP. Year after year we try to keep genius loci of the place. We work hard for the family atmosphere in the hut and we are permanently working towards satisfying tired, hungry and thirsty tourists. We are always comming up with new ideas and we want you to trully experience traditional mountain hut life style. Besides sitting in the cosy hut we also offer our deck from where you can experience trully unforgetable view.
Hut and deck are open whole year round. During summer and autumn they welcome tourists, hikers and climbers, in the winter there are also skiers and skimountaineers. Considering easy access the hut is sought after by all age groups. Our menu suites to all spectrum of needs. If you will taste our unforgettable steamed dumplings with chocolate you won't want to leave any more.
As we are the hut with long tradition, especially during autumn months you can easily bumpe into an unforgettable venture. Some days for example will be dedicated to meeting the legends of High Tatras and their strories. Follow our FaceBook or Web to find out more about following happenings.
...and not to forget former cottiers, that were looking after the hut before us, here is the list of them since 1932:
Zuzana & Michal Tomčík (1934 – 1945), Michal Bobula (1946 – 1950), Karol Bruk (1951), Vladimír Lang (1951), Ondrej Krasuľa (1952), Tibor Molnár & Arpád Szabó (1952 – 1953), Rudolf Presler (1953 – 1955), Jaromír Macháček (1956), Martin Fris (1957 – 1961), Jozef Rybanský (1962), Marta Pavlová (1962 – 1972).
Cottier
Laco Kulanga - the legend between sherpas in High Tatras. He is 70 years old and he spent more than 50 years of his life as a sherpa. For 35 years he has been cottier. To mountain huts in Tatras he already carried nearly anything. At all the huts where he was working as sherpa he made records that nobody ever beat: Zbojnícka chata (1 960 m a. s. l.) 141 kg, Téryho chata (2 015 m a. s. l.) 151 kg, Zamkovského chata (1 475 m a. s. l.) 207,5 kg and Skalnatá chata (1 725 m a. s. l.) 211 kg. He is peculiar person well known for saying: "Words are unnecessary." (There's nothing to wonder at after so many years spent in between rocks in the mountains). Those that are lucky to sit with him by the table and listen to the stories of his life in the mountains have a lot to remember...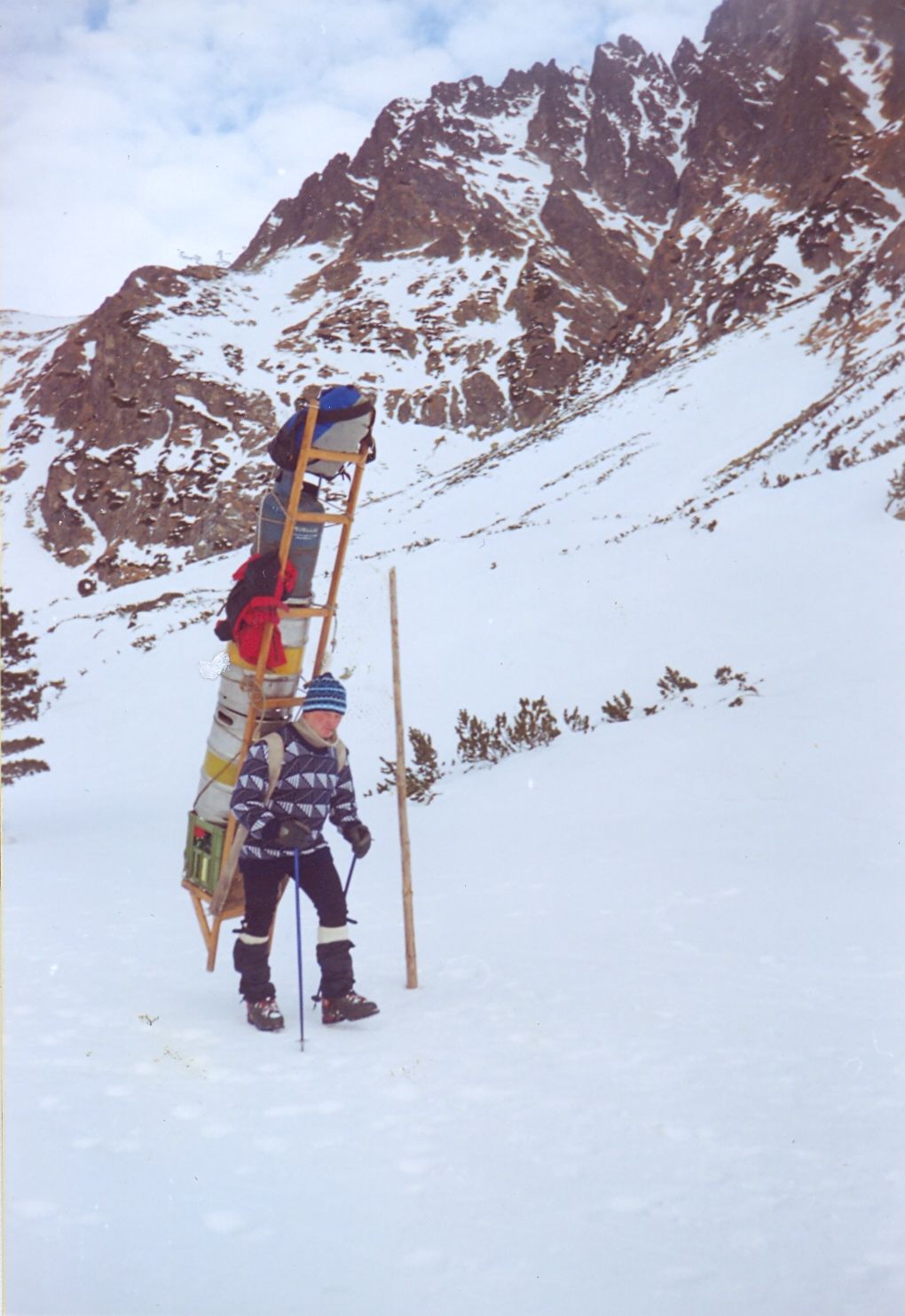 L