Besides trying our best to sate our customer's hunger and thirst, we are happy to reveal that from now on we offer 12 simple cosy bunks in 2 of our refurbished rooms, one with 4 and the second one with 8 beds. There will be several facilities available for our guests, such as lavatory, shower and storage areas where you can dry your clothes as well as store your hiking equipment, so important for pleasant stay in the Tatra Mountains.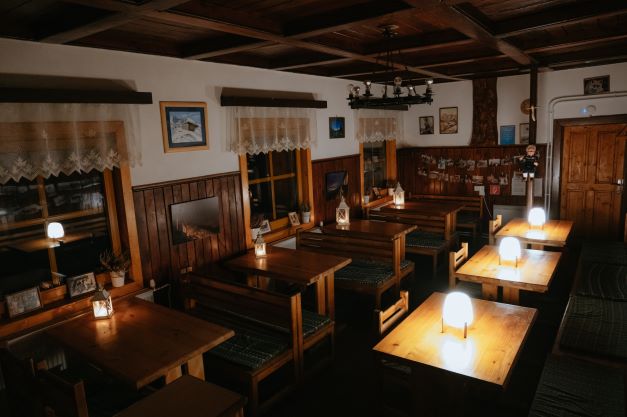 Another cosy, charming part of the chalet, is a dining room where you can enjoy your breakfast as a part of your stay and order delicious food from the menu at any time until 9PM.
Staying in any chalet in the High Tatras is an adventurous and charming affair and our guests are given equally unique experience. Each guest can choose between two options:
Bliss
four-bed room
Accommodation with duvet, pillow and complete bedding.
A novelty of the winter season 2021/2022 is the possibility of guaranteeing for other beds to stay vacant even with less than 4 people (full capacity of the room). The fee for it is 30 € per night. Type GUARANTEE in the note when you book your stay.
Highlander
eight-bed room
Accommodation on a bed using your own sleeping bag. The Highlander room has undergone complete refurbishment and we guarantee comfortable sleeping on new wooden beds in both of our rooms.
As a part of your mountain adventure in this type of accommodation, you are more likely to find new fellow tourists and acquaintances. Please, note that Skalnatá chata is a tourist hostel and your accommodation does not include privacy in a separate room since you pay for a bunk, not the whole room. Ideal for a larger group of tourist friends, isn't it?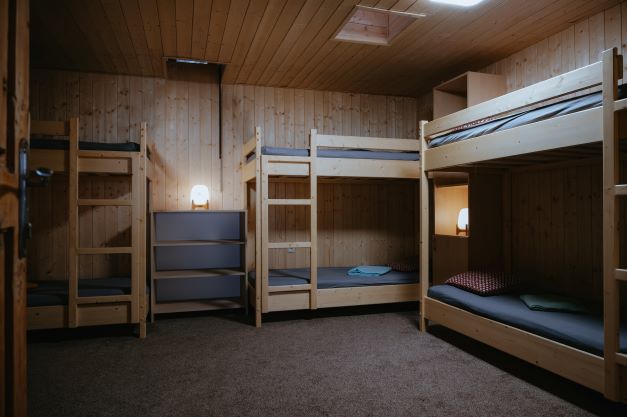 We are proud to announce that the winter season 2020/2021 has become a turning point for us. The newly launched rooms have started to write a new chapter in the story book of our charming chalet and we are excited to welcome you in its homely joyful atmosphere soon.


Price list
| | | |
| --- | --- | --- |
| | Bliss | Highlander |
| 1 night | 35€ / night | 30€ / night |
| 3 and more nights | 33€ / night | 28€ / night |
| Children up to 3yr | 5€ / night | 5€ / night |
| Children up to 12yr | 24€ / night | 22€ / night |
| Spa tax | 2,00€ / night | 2,00€ / night |
Breakfast: from 07:00 to 08:00 / possible to agree on a change
Restaurant open for our guests from 08:00 to 21:00 / Possible to agree on a change as well.
Check in: from 14:00
Check out: by 09:00
We are sorry, but pets are not allowed to stay in for a night.
Breakfast 7 €.
Binding reservations: This email address is being protected from spambots. You need JavaScript enabled to view it.
Please call +421/910 739 172 for more information.
Cableways operating hours: www.vt.sk/en/info/info/cableways-opening-hours
Accommodation booking
This email address is being protected from spambots. You need JavaScript enabled to view it.
or
Upon recieving our confirmation email, please make a deposit to the following account number: SK17 8360 5207 0042 0574 8272. Please note that the deposit is non refundable. In the reciever note please state "deposit" and "name" (same as on your reservation). The amount will be reduced from your final receipt.